Good morning to all. The news this week, second year, I dedicate my companion UDC, Carlos Alvarez, who was the person who gave me the idea to write about this topic. I also asked the body to share this dedication with Juan Rios, active commentator blog, to whom I usually listen much to pronounce the "term" star this week.
According to many internet entries, including "wikis", and with appropriate caution, is called "FUCK" the small cage that was in the top of the mainmast of old ships. The "FUCK", given its location at the top of the mast, was an unstable place more strongly manifested balances and nodding boat. When a sailor committing a foul he is commanded to "Hell" as a punishment (or you will be trincaba the mainmast). Here's why when we lose sight of someone use the expression: "Fuck you". And so when the sailor down from Hell, I was so dizzy that was useless. And here comes the expression: "NOT WORTH A FUCK".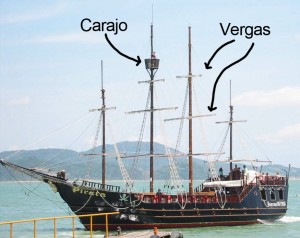 (Source: www.taringa.net)
The Hell was on top of the mainmast, something out of sight of the rest of the crew. Hence, when someone is away can say with complete property: "IS FURTHER THAT THE FUCK". It is obvious that no one in the crew, was interested in getting at the "Hell", therefore it is not bad, mutatis mutandis, when something interests you, say: "I give a damn". Thus, if someone sends you to Hell, away from horrify, you should think: "Go culture that has this person!".
Other known meanings of "palabrejo" could be noted:
"This is more good than Hell": Define very attractive or nice. But equally if it's something we do not like, we could say: "It's worse than the Hell".
Also if we want to accentuate the mediocrity of someone, we often say: "It's more gross than Hell"; yet we can accentuate eg, our admiration for @ mit @ and say: "It's more than good @ Hell". If we come to a meeting and found good atmosphere, express:"Shit, that good vibes " and if instead we do not have fun, then launched a "This is more boring than Hell".
And so, We could probably fill several pages, writing again and expression into which it included the aforementioned little word. But if you abuse it could lead someone to reclaim and say: "What the fuck is this??".
I must thank "JonKepa" and his teachings nautical Blog, for having reported almost everything I have now commented on his blog nautical teachings. You can visit here:
https://nauticajonkepa.wordpress.com/2010/12/21/origen-de-la-palabra-carajo/
Returning to the meanings that shows the RAE as hell, in the list are many meanings, but first of all refers to the penis. Behind him appear related meanings and expressions of rejection surprise. In Cuba and in many Latin American countries, also used profusely. It could be also that even the Cadiz term "Carajote" it is related to the nautical life and the "fuck".
Anecdotally noted that while, Xabier cited, He called President Tarradellas of "egomaniac hell of Sail". And what "candle" would refer? Well according to a lady who phoned a radio program, vecina Sant Cugat, the "fuck Candle" is like the Galician fishermen often referred to Argonaut-a cephalopod mollusk, when nothing, it resembles a little boat- and, in derogatory sense, equivalent to the Spanish expression silly ass.
To finish with the colloquial meanings, another highlight of a Spanish merchant navy. According to him, back in the sixties, when he sailed, was called "Fuck sail" jellyfish known then and now as "Carabela Portuguesa" (Physalia Physalia), that abounded much (now) in Atlantic waters from Portugal to Ireland. They are very dangerous, urticantes, and sometimes fatal form of travel is on the water surface, air swelling, so you are carried by winds and currents.
And that's all for this week!